Visitors to this corner of the Internet are likely to already be familiar and comfortable with the appropriation of occult terms to refer to real psychological and sociological phenomena. You probably know about Scott Alexander's moloch, and about . In this post, we talk about tulpas, which are like baby egregores. Autonomous imaginary friends that tulpamancers summons by subdividing their own minds.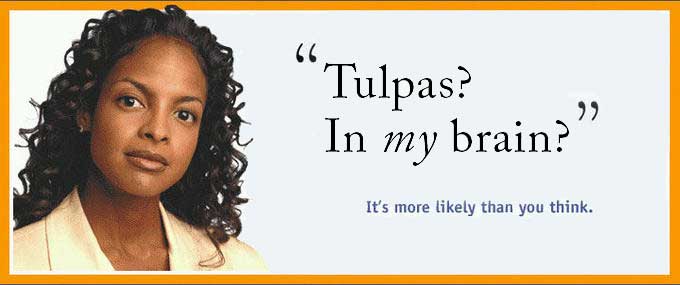 The word tulpa, as used in this post, can be defined as a "mental model of a person-like entity". The occult terminology here is more than just a fun shorthand. We will attempt to take claims made about tulpas by Tibetan Buddhists, occultists, scientologists, and modern (secular) tulpamancers and usefully apply them to everyday mental phenomena. Without stretching the definition too much, we can say that people summon tulpas regularly without knowing it, and are hosts to an entire ecosystems of thoughtforms. We may even go as far as to view the individual as a collection of such thoughtforms. In other words: your mind is composed of nothing but tulpas.
In his Society of Mind, Minsky defines the mind as a "society of agents" - a collection of autonomous agents, each with an area of responsibility, and means of communication with other agents. In our tulpa theory of mind, each tulpa is such an agent. We are particularly interested in memetically transmitted agents such as models of other people, stereotypes, archetypes, fictional characters, brands, and selves. All of these would be classified as relatively complex agencies, themselves composed of smaller agents, in Minsky's society of mind. He also discusses smaller agents, which may not be part of person-like mental models. It's possible that such free-floating agents exist within the mind, but it's also possible that each of these mechanical agents necessarily belongs to one person-tulpa or another.
Memes and Memeplexes
The term meme was defined by Richard Dawkins in The Selfish Gene as "a unit of cultural transmission".
A memeplex was defined by Susan Blackmore in The Meme Machine as "a collection or grouping of memes that have evolved into a mutually supportive or symbiotic relationship." A memeplex is a set of ideas that reinforce each other, roughly analogous to the symbiotic collection of individual genes that make up the genetic codes of biological organisms. Religions and cultures are memeplexes. In this post, we argue that individuals can also be thought of as a memeplexes.
A meme pool is a collection of interbreeding memes. Again, we argue that the individual mind is a meme pool.
Like egregores, tulpas are memetic entities. Beings composed entirely of memes, with no physical bodies of their own. Your tulpa of Donald Trump is made up of his various mannerisms, expressions that he likes to use, traits he appears to possess, etc.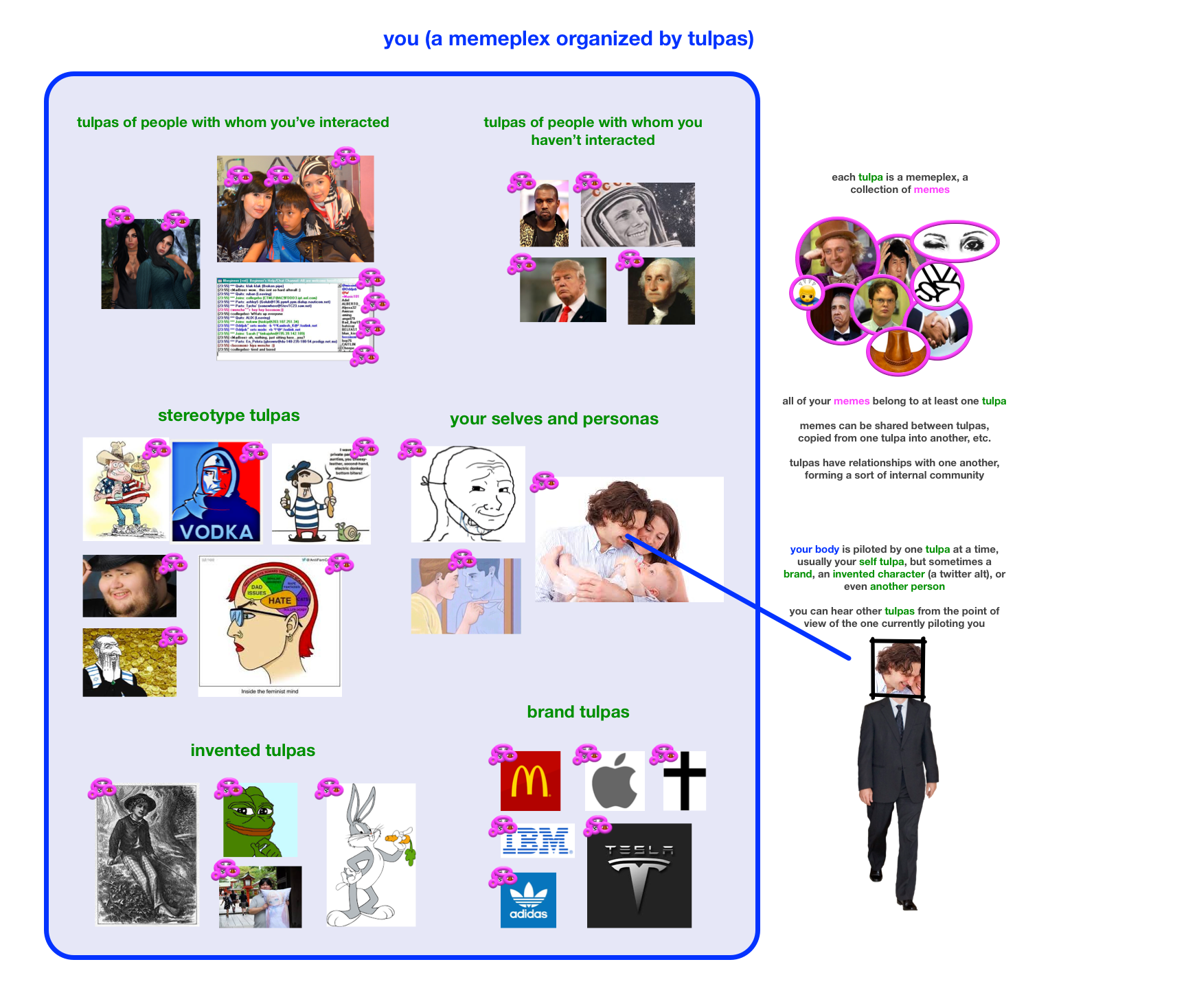 Some Classes Of Tulpas